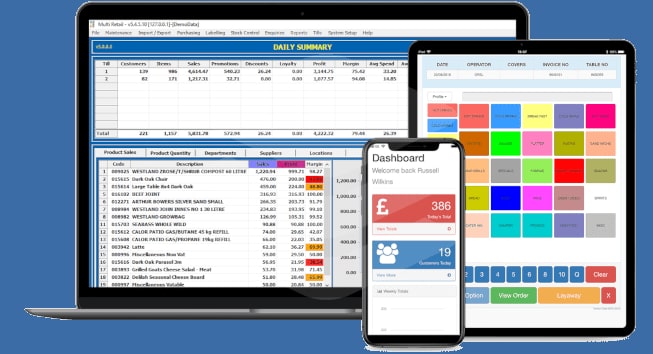 Award Winning Specialist EPoS
"Intuitive, Fast, Accurate."
The EPoS system that frees up time, and maximises profit.
Why is EPoS so important?
Get it right first time
Insightful retailers choose to know what is happening in their store instantly so they can react accordingly.
Running out of stock of a popular line, or having stock sitting on shelves for years is a no no, and this is one of the main areas EPoS can help.
Without EPoS you are relying on human memory or paper based systems which both have flaws.
Be in control of your business and automate as much as possible (with a human having the final say).
Get 100% accountability on who is doing what both in the office and at the till, and instantly know in real time your current financial position, along with vital stock information.
EPoS is a tool like any other, when used correctly it saves lots of time and makes life easier.
We are not just another EPoS provider.
When you choose to work with Open Retail Solutions we work together as a partnership so you can get the most out of your EPoS system to maximise the positive impact on your business.
We will be here everyday after you go live, to support you and advance your knowledge of the product.
Key benefits
Identifying best & worst selling products in real time.
Serve customers faster.
Discover how many weeks of stock you are holding based on previous sales.
Sell by weight quickly without human error with integrated scales.
Order automatically using sales or stock figures.
Accurately record wastage & own use.
Entice customers back with End Of Sales Vouchers or Loyalty Schemes.
Check your takings and best performing products from anywhere in the world with a internet connection.
Expert support 8am – 8pm, 7 days a weeks.
EPoS System Specialists In These Industries
We have customers using our software in many different sectors of retail, but here are where the bulk of our customers lie.
What Our Customers Think of Our EPoS Solution
"Open Retail have been a great company to work with. Their simple to use EPoS  software helps us to run our business more efficiently. The 7 day support has always been excellent and they go above and beyond to fix any issues"

James Barr – Woodlands Garden Centre
What next?
Not sure where to go from here?

Contact Open Retail Solutions now to discuss your business and how we can help.